Make Your Own Christmas Cards
Learn step by step how to make FAST & EASY handmade Christmas cards from ONE sheet of pretty paper!
Hi, I'm Jessica Taylor and I've been teaching people how to make handmade greeting cards for over 22 years. One of my favorite card making techniques is the One Sheet Wonder method. It's an easy way to make lots of cards FAST!
What is a One Sheet Wonder?
It's easy. You take one sheet of pretty paper, cut it up, and make it into a bunch of cards! You can start with a pre-printed patterned paper OR you can stamp your own design on plain paper. Then cut up the paper according to a One Sheet Wonder template and use the pieces to make a variety of cards. Like this…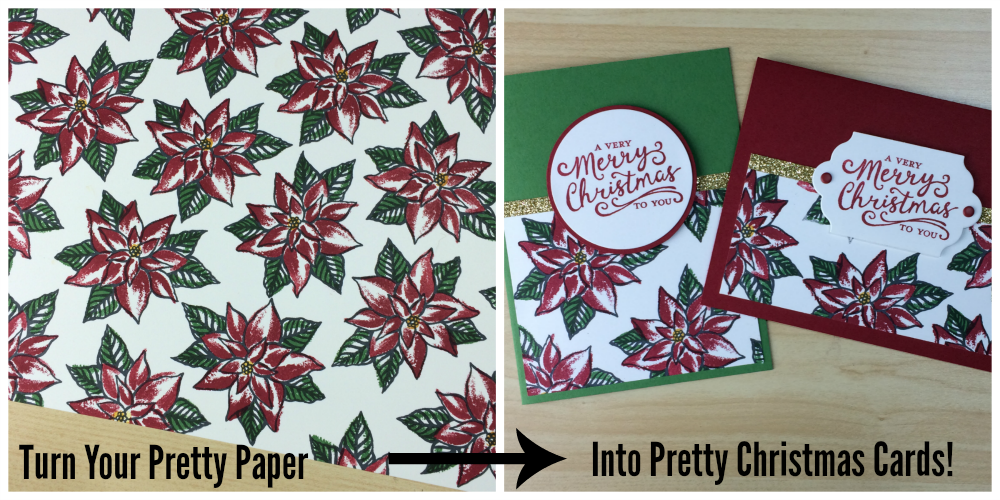 Simple & Fast!
My One Sheet Wonder templates are created with simplicity in mind. That makes it easy for you to use the templates to make cards fast and have fun doing it. You can make anywhere from 7 to 13 cards starting with just ONE piece of paper! Genius!!!
It's so easy an 11 year old can do it! This is how I taught my daughter to make cards when they were young. I'll take you step-by-step through the process in the class training videos and I'll tell you exactly what to do with each piece of paper.
Why One Sheet Wonder Templates ROCK
You can use them with any of the stamping and paper crafting supplies you already have!


They help you stop hoarding all of your pretty papers and actually turn them into cards you can use.


They are a great way to learn how to make your own greeting cards


No waste! You'll use every bit of your pretty papers


No fancy tools required!


You'll make MORE cards in LESS time!


Less struggle with picking out colors and card layouts.
Let me teach you how to use One Sheet Wonder templates in your card making.
Are You Ready to Make One Sheet Wonder Cards?
Here's what you'll get with this ONLINE VIDEO Class:
4 ONE SHEET WONDER TEMPLATES: These are templates EXCLUSIVE to this class that you won't see anywhere else. Includes templates for both 8-1/2″ x 11″ and 12″ x 12″ papers.


4 VIDEO LESSONS: Each template includes a video showing you how to make your cuts quickly and accurately. You'll also learn how to successfully stamp a beautiful background piece of paper.


STEP-BY-STEP INSTRUCTIONS and PAPER SIZES: So you'll know how to make a card from each one sheet wonder piece. I make it as easy for you as I possibly can!


LOTS OF SAMPLES: You'll see how to use each piece in multiple ways to make each card your own, as well as multiple card sets made from each template.
Clear Directions Anyone Can Follow

You'll learn step-by-step how to successfully stamp a beautiful background piece of paper, how to cut your paper to eliminate waste and how to take those cut up bits of paper and turn them into a card! One Sheet Wonders are perfect for the beginning card maker and the expert card maker alike. Starting with the base pieces you can keep your cards simple or add as many embellishments as you'd like! The One Sheet Wonder method makes it so easy to make lots of cards that are all unique.

The best part about One Sheet Wonder Templates is that you can use them with the paper crafting supplies you already have. Plus, you can use these templates for more than Christmas cards.
You can use these templates to make cards for ANY occasion!
P.S. Sets of handmade cards make GREAT gifts!!

What People Are Saying
"Thank you Jessica, the One Sheet Wonder just made my life so much easier. I was short 5 cards and I whipped out paper, cut it, and made my cards. No struggles for design color etc." ~ Betty
"I had someone wanting to buy some Christmas cards. Made them using OSW and it saved so much time! Now I'm making variety card sets for gifts using OSW!" ~ Tracy
"I have never made cards this fast before! Thank you Jessica Taylor for all the work you put into the class!" ~ Patricia
"I'll use the ideas for a long time to come. Thank you!" ~ Bonnie
Class is On YOUR Schedule
Though I won't be right in your craft room with you, you'll feel like you're in mine when you watch each class video. Unlike a live class where you see it once and have to remember it, you'll be able to watch these videos over and over and over again.