Isn't it time to STOP LOOKING for ideas and START LEARNING how to use the card making supplies you already have?
Let's face it – there are a lot of ideas online today to inspire you in your card making. But the bottom line is, no one is teaching you HOW to use the stamps and supplies that you ALREADY have. You want to make and send more cards but you're just not sure where to start, what techniques to use or how to get more cards made in the little amount of time you have.
During my 20+ years of paper crafting I've made a lot of cards. I mean, a lot. My favorite technique to use is called the One Sheet Wonder and I have used it to make HUNDREDS of cards in very little time. Now in my "One Sheet Wonder Card Club" I'm bringing together for you my years of experience, my love for creating new One Sheet Wonder templates, a private Facebook group and I'll even be there with you personally, every step of the way, to ensure you reach card making success.

The One Sheet Wonder Card Club Includes:
A NEW One Sheet Wonder Template each month
Monthly video training from Jessica Taylor
Downloadable file with up-close card photos and paper cutting measurements
Live interaction with Jessica & other card makers in a Private Facebook group
A BONUS template converter to help you easily use 8-1/2″ x 11″ templates with your 12″ x 12″ papers
Access to the ULTIMATE One Sheet Wonder Template Library with over 5 years of club videos, templates and card ideas!
Learn how to use the mountain of card making supplies you already own to make more cards. You'll get more done and have more cards on hand ready to send when you need one.

I'll show you exactly how to use the monthly template to cut up your paper and how each piece can be used to make a card, along with other card making tips and tricks. All paper measurements are included so that you know exactly what size to cut ALL of the pieces for your cards.
Plus with over 450 club members you'll be amazed by the variety of cards made each month starting with the SAME template! You're sure to be inspired.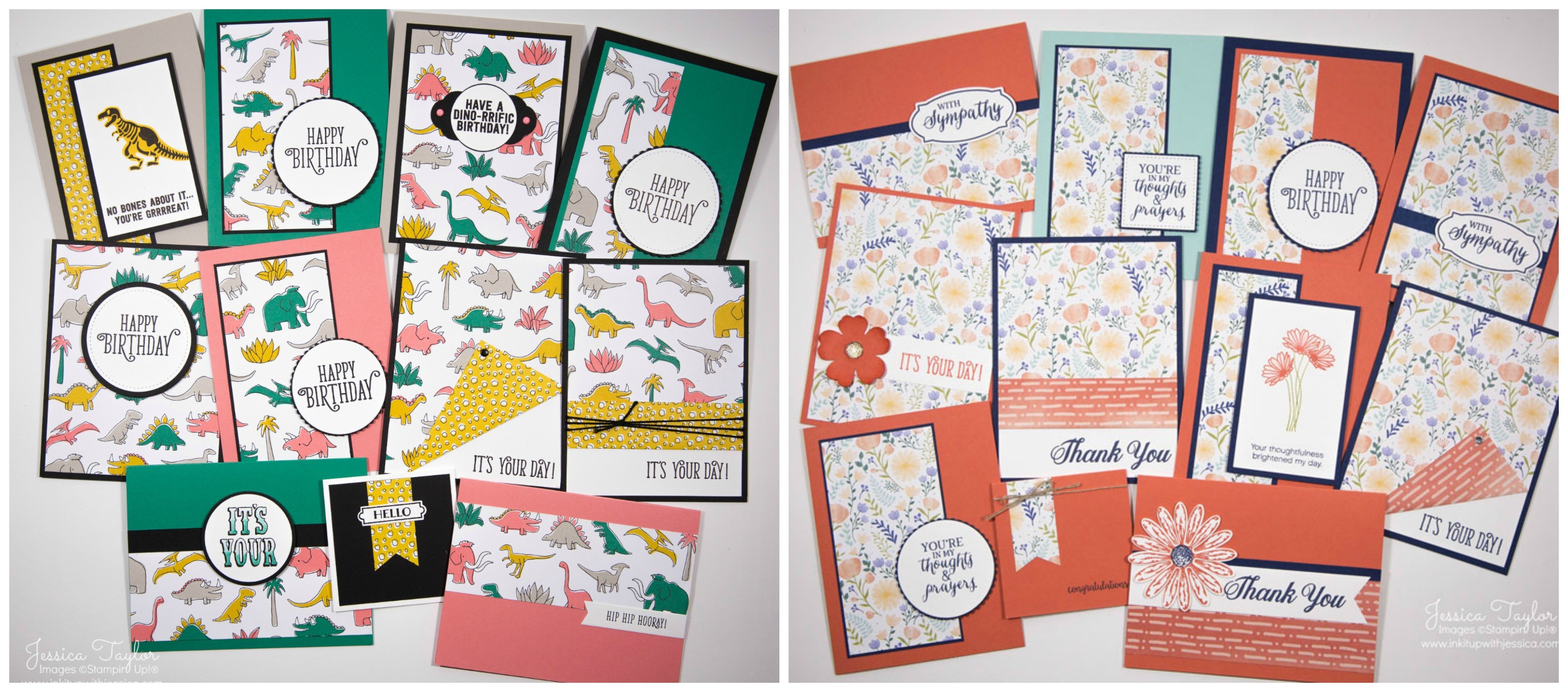 What people are saying…
"This is proving to be the perfect way for me to actually make more cards. I cut my paper late at night, and make baggies with the bases, pieces and other items. I can put them together while waiting for kids, appointments, etc." ~ April
"It is a good way to get started. I get overwhelmed with the paper and stamps. This way, I can just focus on one sheet of paper. And almost magically I have 6-7 cards." ~ Mary Jean
"Have really liked this club this year. Best money I ever spent." ~ Katheryn
"I am just amazed how many different templates/ideas Jessica has already come up with!!" ~ Cindy
"Love the ease and versatility of the one sheet wonder idea!" ~ Nanci
Are you ready to learn how to...
Use the supplies you already have
Stamp your own background papers
Make Cards Quickly
Use up the pretty papers you're hoarding
Not waste paper
Create cards with Limited Supplies
Accurate Paper Cutting
Recreate a card using supplies you already have
Make more than one card at a time
Create Fun Fold Cards
Make Quick Cards that look like you spent hours on them!
Know where to start, use what you have, get more done. It's that easy. Let's get started!